MIT MakerWorkshop is a student-run makerspace at MIT where a community of students, faculty, and staff work on any project from research-and-classes to hobbies-and-gifts. Resources and equipment in the space enable users to perform the 3 M's (model, make, and measure) on their projects. Community events in the space such as Fab Fridays and Maker Cup promote the sharing of ideas and best practices while giving users additional perspectives while problem solving.
Join MakerWorkshop and MechE faculty for wine glass engraving this Friday!
Read More »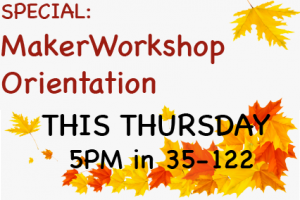 Contact Jimmy if you have questions (jtran1@mit.edu)
Read More »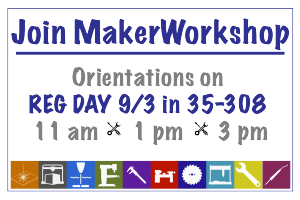 Join MakerWorkshop via Maker Monday Orientation on REG DAY 9/3 in 35-308 at 11 am, 1 pm, and 3 pm.
Read More »
How MIT MakerWorkshop is Unique